I made a conscious effort to watch more films this week and... I did. I watched a couple that were for marathons (I decided against doing a Bresson marathon post) and obviously I won't talk about those. BTW, the upcoming Marathon posts will be Jean-Luc Godard and Jim Jarmusch. I watched all the Godard films I wanted to watch but now I gotta write/re-write my thoughts to something resembling coherence. Look for it hopefully this upcoming week.



Diary of a Country Priest (1951)
(Directed by Robert Bresson)


Possibly one of the most ascetic film experiences I've ever had which accurately mirrors the nature of the life of the titular priest. Bresson illicits a surprising emotional response from what's really a pretty bare-bones plot. Even taking into account Bresson's methods with actors, Claude Laydu's performance is amazing. He, just like the film, is quietly affecting. Its power sneaks up on you. The scene in which the priest rides on the motorcycle is fantastic. I'm excited to explore more Bresson films.
★★★1/2
Magnolia (1999)
(Directed by Paul Thomas Anderson)*


There's too much crying. There's too much cussing. It's obvious that a major plot line was taken out. That rapping kid is pretty dumb. It's too ambitious. It's messy. It's too much. It's amazing that I love a film as flawed as this one so much. I'm honestly just in love with the film's flaws. Every time I watch it I get swept up in its vision; the songs, the characters and everything. Ever since
There Will Be Blood
came out, critics have been quick to hail it as some kind of giant leap into greatness but I'll be the guy telling them that PTA had already achieved greatness long ago with
Magnolia.


★★★★
Glengarry Glen Ross (1992)
(Directed by James Foley)*

Lots of fantastic acting here by all parties. My favorite would probably have to be Baldwin just because he's so hilarious and utterly hateful in the role. Lots of great foul-mouth lines. Outside of it being fun just watching a bunch of great actors curse each other out in creative ways, the film is a claustrophobic study of middle-aged men who have nowhere to go. This is an actor's film so I instinctively don't react to it as much as I would with something else (no clue why) but it is a fine film and quite funny at that. Plus Pacino's voice is liek smooooooooooooooth!
★★★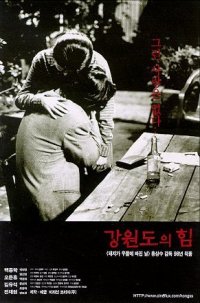 The Power of Kangwon Province (1998)
(Directed by Hong Sang-soo)


Another Hong Sang-soo film. More of the same. Once again there are lengthy meals with plenty of drinking, sex that is embarrassing, relationships between men and women that are less than emotionally healthy. Everything is present here. In fact, from what I've seen of Hong's films, they're all pretty similar. Hong reworks his obsessions in slightly different ways from film to film which to me means that he rightfully belongs in the short list of noteworthy Asian auteurs (which I haven't made up yet). I'm looking forward to more Hong but from the look of things I shouldn't expect too much to be new. In a sense, it'll be like catching up with an old friend except that he's not old and you're just barely getting used to his quirks.
★★★
Bad Education (2004)
(Directed by Pedro Almodovar)


Damn, if you thought
Live Flesh
was dark then you have no idea what's in store here. Gael Garcia Bernal (awesome) plays... actually, I don't even know anymore. It doesn't really matter. All you need to know is: gay sex! And lots of it. Almodovar returns with another one of his lurid melodramas. The catch this time is that it's all informed by the world of Film Noir. Particularly loved when two characters went to see a film noir film at a theater and right after they left one exclaims "It's like our life" (or something or other.) Of interest: this film deals rather frankly with pedophilia so sensitive folks might want to avoid it. Definitely my least favorite Almodovar (battling it out with The Flower of My Secret) but it's still heaps better than lots of other movies.
★★★
Jhon's Movie of the Week:
Magnolia